The Auburn Presbyterian Church is located approximately, 1/2 mile from the intersection of US 61 and Lincoln County Road B. Our church is located South on Old Auburn Church Road approximately 1/4 mile from County Road B. Although the directions may seem a bit confusing, do not worry! The church is easy to locate! Just look for the "big" sign that points the direction to Auburn.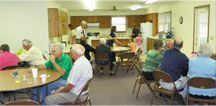 Our time of worship is 9:30 AM in the months of June and August. Check the website or call the church office for additional times and events.

We would like to get to know you, and if you have any special prayer needs...this is the place to come. We will present your requests to our Mighty God!









Auburn Presbyterian Church
59 Auburn Church Road/ Elsberry, MO 63343
Founded 1823

Clerk—Mae Gibson—573/384-6295

Treasurer—Roy E. Robinson,—573/384-5345.
Located: 21 miles South of Bowling Green.
11 miles North of Troy.

From Highway 61.
Turn west onto Highway E (toward Silex) (Look for Auburn Presbyterian Sign)
First dirt road on the left…(Auburn Church Road) turn left then turn immediately right onto what will look like a driveway into a private home….just follow the road around the barn, the cows and the tractor to the church. Click here for map